Adding a Touch of Elegance to Warm Robes for Women
The problem with most warm robes for women, is that they tend to be either not warm enough, or nice and warm but bulky and highly unflattering. Why should we have to trade out our style and fit for comfort and warmth?
Well, I think we shouldn't have to. If you're wearing a warm robe around the house, then obviously you need it to be comfortable and hopefully elegant.

For me, style, comfort, and fit are what matter most. 
I like to look stylish, and feel comfy, especially at home in my robe, and I know many others feel the same.
I like my robes to be flattering, even if they are thick enough to be warm, so I can look and feel my best, while still being warm and comfortable. It's time to find a balance between warmth and fit, with a style that is elegant. 
When I sat down to design
the perfect warm robe
, I had to make a lot of decisions in order to get my robe just right. So, in case you were wondering how I decided to make my robes the way I did, here's a look at some of what I considered and what I ultimately chose.
Some fabric choices for warm robes for women
If you want a robe that is warm and comfortable as well as stylish and fitted, then you are going to think about the fabric used to make it. 
I've done a lot of looking into this, to find the perfect fabric. This includes examining the thickness, warmth and durability of different fabrics until we found some that work wonderfully.
Cotton and Fleece
Cotton is a favorite fabric of mine. It can easily be adapted for different options for weight and thickness, depending on your preference. 
In terms of making a warm robe, cotton by itself isn't the warmest fabric… so if you want a much warmer robe, something else is needed. Therefore, some of my cotton robes are lined with fleece, for that extra layer of coziness.
Fleece is a lightweight fabric made of synthetic polyester. It's soft and very comfortable. It could be used as a fabric for a whole, very warm robe. But unfortunately, this would pill horribly and disrupt any style or elegance a robe might have. 
I much prefer to use fleece as a lining for my cotton robes. This makes a warm weighted robe that can keep you cozy on the coldest days, while still creating a beautiful, stylish fit. Without any unattractive pilling.
Cotton lined fleece robes are our secret weapon
. They keep you warm and snug, solving the problems of pilling and easily picking up dirt that come with fleece, by instead having elegant cotton patterns.
And as a bonus – cotton is durable, and very easy to wash and care for.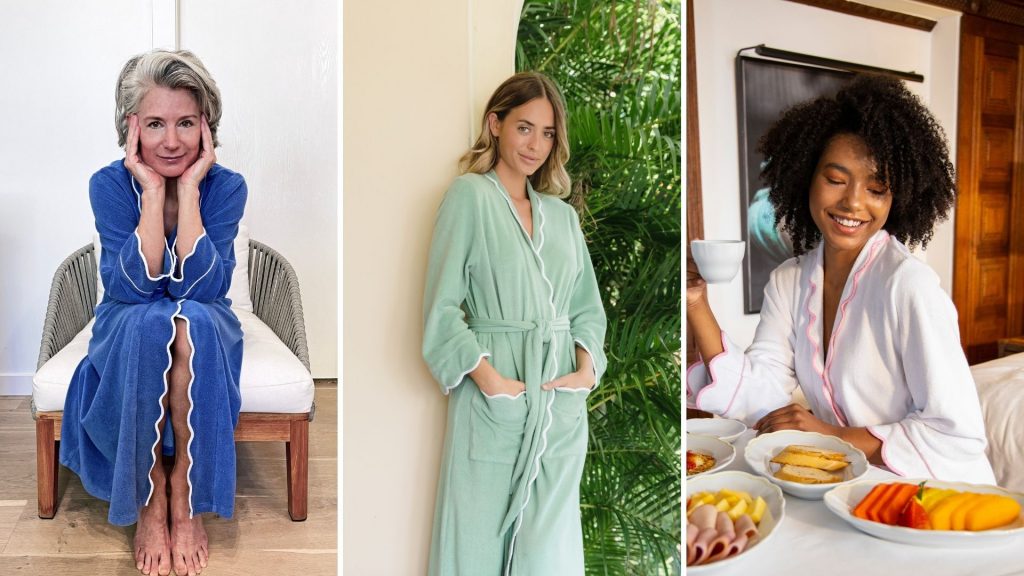 French Cotton Terry
We use French cotton terry, which is far lighter, smoother and softer than normal terry cloth. It also falls in a far more flattering way, without the bulky weight of traditional terry.
It's made of a very thick terry pocketed cotton and uses a small percentage of synthetic fibres to be slightly stretchy, and therefore more flattering and more stylish.
It is still a brilliant choice for an absorbent fabric for straight
after a bath or shower
and dries quickly afterwards as well.
French terry is the best-selling product among the robes, and I'm rather proud of my choice here.
Cotton Flannel
Cotton flannel is a popular choice of fabric, and we love our warm robes made from this. 
Flannel is known for a soft, napped (or fuzzy) surface on both sides, and for being cosy and comfortable. Our flannel robes are made of brushed cotton not woven, with no wool involved, so no itching or allergic reactions here!
Cotton flannel is also easy to wash, and very durable, just as traditional cotton is. It's a mid-weight fabric, which is warm and insulating, and very flattering without being bulky.
Cashmere
Cashmere is often seen as a
luxury
fabric, both for its wonderful softness and lightweight warmth, but also because it is expensive. The price of clothing made of this fabric can make it out of reach of a lot of people.
To keep you nice and toasty warm, you need good four-ply cashmere, which is simply very expensive. You can use cheaper cashmere, but this tends to be thin, which doesn't keep you warm, and far more likely to pill badly and lose that smooth softness.
So, although I love the softness of cashmere, and would love a robe made of this super soft material, it's simply too expensive for me to justify making whole warm robes from this fabric. 
Instead, I've found that there are some great alternatives to be warm, comfortable and stylish, which I've already shared with you.
Other factors to consider when choosing your warm robe
Let's start off with something that I care deeply about.
Style and shape
A robe doesn't have to be without a flattering fit. So, depending on your preference, there's a few different shapes to choose from in our range of warm robes. 
Choose something that is going to be flattering for your shape; our robes are about staying warm while still looking stylish.
The

Classic robe

has a standard fit, with an attached belt. This is a lovely timeless look, as the name suggests, that reaches to mid-calf and has wide pockets for your phone, handkerchief or whatever else you might want to keep on you.

The

Wrap-around robe

has a side tie, to produce a clean and elegant A-line flair. This robe too has wide pockets and is a mid-calf length.

Perhaps you'd prefer a

Kimono style robe

, which is comfy and easy to spend the whole day in. It has the wide pockets of the other robes, along with the wide sleeves characteristic of a kimono.

Our

Short robes

have the same flattering shape as the other styles but obviously the length affects the warmth.
Patterns on our warm robes for women
All of
our patterns are drawn by European artists, with direction from me, and there are a wide range of options.


If you're looking for something suitable all year around, then you might look at some of our range of different floral patterns, or perhaps the tartans, plaids and single block colors.
But if you want a warm robe with that little seasonal hint to it, then take a look at our holiday print or our ski print.


Take a look at all our patterns and robe style here:
Robes
All our robes are trimmed with stylish scalloping, whether that's on the cuffs, hems or the edges of the pockets. This is done by hand, rare and expensive. 
No-one else uses scalloping as extensively as we do.
Or you can choose by weight instead…
Our warm weight robe is a cotton robe lined with fleece, designed for keeping you warm on the coldest day, while still being as flattering as possible. The mid-weight robes are made either of French terry cloth, or flannel, to be soft, warm and flattering – even when used for a wraparound robe.
Time to choose your ideal warm robe
Whether you make your choice based on fabric, weight, pattern or a combination of those, we hope that you'll feel comfortable, warm and stylish, just as I think we all deserve to feel, in your warm robe.
I am especially fond of our cotton and cotton flannel robes, with a range of elegant and stylish patterns. And if you want to be a bit warmer, there are several different patterns that also come with a fleece lining, for that extra cozy feeling. Just as a reminder for you, all the flannel and linen in our robes is organic.
Every product that we sell is carbon offset, through planting trees, and if you want to, you can donate a little extra to make your purchases carbon positive. We're working on making more of our clothing come from organic sources and reducing the impact of everything we do on the planet.
So, go ahead and take a look at all our
warm robes for women
, and pick out your ideal cozy, flattering robe.
Shop My Best-Selling Warm Robes