How I Navigated Style During Life Milestones
Aging is inevitable (but wonderful with the right attitude). As are the different stages and life events that come with it. My approach has always been to embrace the changes – both mental and physical – and think about how I can make the very best of them.

One thing I've always been passionate about is style. How what we wear makes us feel, and the ways in which it represents who we are… So, let's talk about how to stay stylish during life milestones – from my own experience.
Getting better, not getting older
This is a phrase I swear by! Instead of focusing on the fact you are getting older – which unfortunately comes with a bunch of negative connotations – think about it as getting better.A bottle of fine wine gets better with age, and I believe that we do too. The Japanese call it Wabi Sabi. My interpretation is that the wear and tear we acquire living life is where our true beauty lies.

Time allows us to deeply get to know ourselves, determine what matters most to us, and find things that help us be the best 'us' we can be. I love being the best side of 40. The incredible experiences I've had, lessons learned, and fears overcome. One of which was dreading going grey! Though I fully embrace my hair today, going grey wasn't the easiest decision to make by any means…

I was very scared to stop coloring my hair – like really frightened – but I bit the bullet and cut my hair super short to let it grow back its new natural color. Now, I love the style and grey tone. Plus, I get tons of comments about it every month, which is a far cry from back when I colored it.

If you are currently in turmoil about those greys peeking through, don't fight it. All you need to do is find a hairstyle that suits your face (hair stylists can help you with this) and make sure to pay attention to what you wear. That last bit I can help you with. Let's talk about staying stylish as you get 'better' when it comes to choosing clothes!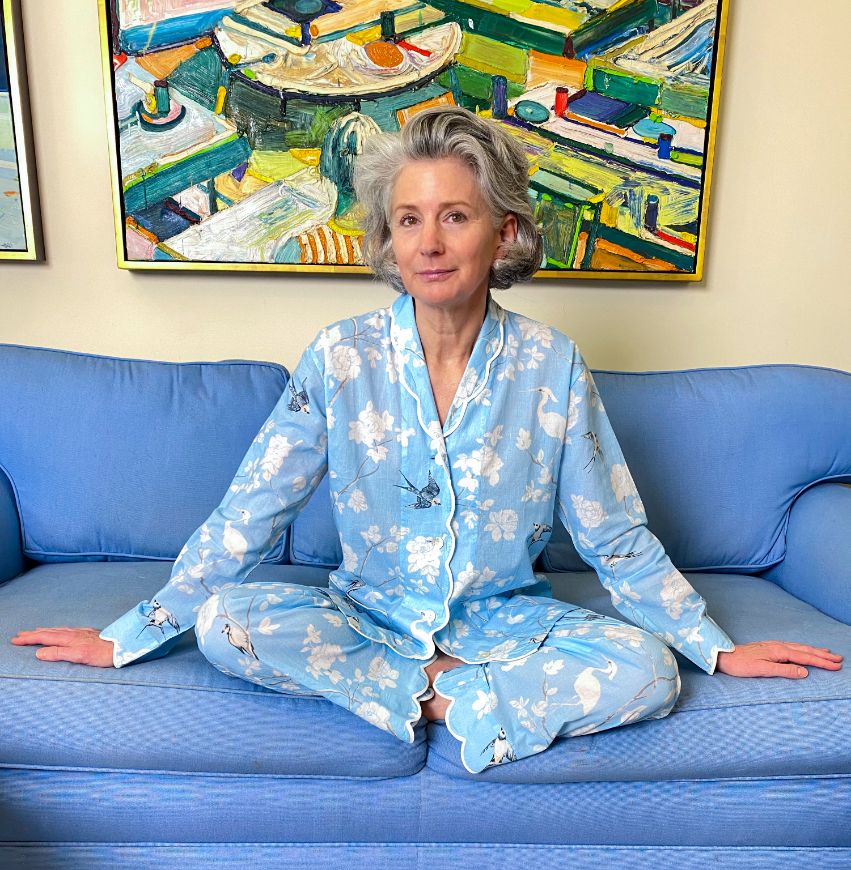 9 top tips for staying stylish during life milestones
1. Remember that dressing young won't make us look young. We need to dress appropriately for our age. Loud colors, bold patterns, too much skin, sky-high stilettos, too-tight tops, or too loose, won't do us any favors.
2. It's good not to cling onto something that looked good on us 10/20 years ago… We all change, our appearance changes, so if it doesn't suit you anymore it's time to move on! However if it's a timeless piece of clothing that can remain in your wardrobe and you'll always want to wear it, take it to a seamstress and get it altered to fit your body. I do this all the time!
Everything you wear should look like it was made for you, not someone else.
3. Getting caught up with fashion trends is something I always advise against… It's better to keep our wardrobes classic and timeless. The quicker we adopt this type of style, the longer our wardrobes will last.
Classic style works for any age and body type, so it will move through the milestones with you! A key part of this timeless style is the muted and neutral color palette, alongside classic cuts, and sophisticated shapes. If you want to learn more about classic style, head over to my blog: What is my take on modern classic style?
4. Be willing to invest in quality for the pieces you wear all the time, whether that's a pair of shoes, a coat, or your favorite bag. If you love it enough to wear it a lot, you want it to last as long as possible.
I tend to stick with the brands I know and love. I'm much more confident and trusting that their style will suit my taste and fit well to my body. When we are in New York or Hong Kong, I choose to focus my time at those shops rather than just looking around. Frame Jeans, and Diane B shoes are two good NY examples. When products get crazy popular, or start to become a fad, I generally lose interest.
5. Speaking of quality, we should opt for materials that stand the test of time. Things like blue jeans and other pants get worn and dated. If a favorite pair of jeans is looking tired and ill-fitting, it's time for a new pair.
Top tip here: if you find 'the perfect pair' buy more than one. We can always keep them at the bottom of the wardrobe ready to be switched once they go shabby.
6. I like to have a system for choosing my outfit, from what I wear in the daytime, to that of an evening. Having a good understanding of what you have in your wardrobe is key. Especially knowing which pieces to mix and match for different occasions.
For example, you might have a couple of looks for lunch with friends, dinner with your husband, relaxing at home, going to the shops, etc.
Knowing what you have and what goes together will ensure picking outfits is easy and you'll be confident in what you're wearing at any given time.
7. Remember, it's not all about clothes and accessories either. What we wear and how we wear it also applies to our hair and makeup.
If you are going grey, embrace it (like I did – eventually). Don't do anything too 'on trend' with your hairstyle, something classic but consistently modern will do the trick. Also, think about how your face shape may change, you may want to adapt your hairstyle to that.
Keep makeup simple, 'no makeup' makeup is often best. I like to enhance it with a bolder lip color or a little eye shadow for the evening.
8. Don't be afraid to let your personality shine through. Find ways of doing so through accessorizing… Bold statement necklaces, beautiful and eye-catching bags, shoes that stop people in their tracks. Pair those with a more muted and neutral outfit and you are on to a winner!
9.
Find someone who influences your style. Perhaps someone around the same age or a little older, so you can see how they style themselves at each milestone. Some of my most influential style icons are:
Aerin Lauder – Founder of AERIN & Style and Image Director at Estée Lauder
Inès de La Fressange – Model & Founder of Inès de La Fressange Paris
Jeanne Jaeckle – Founder of F. Gerald New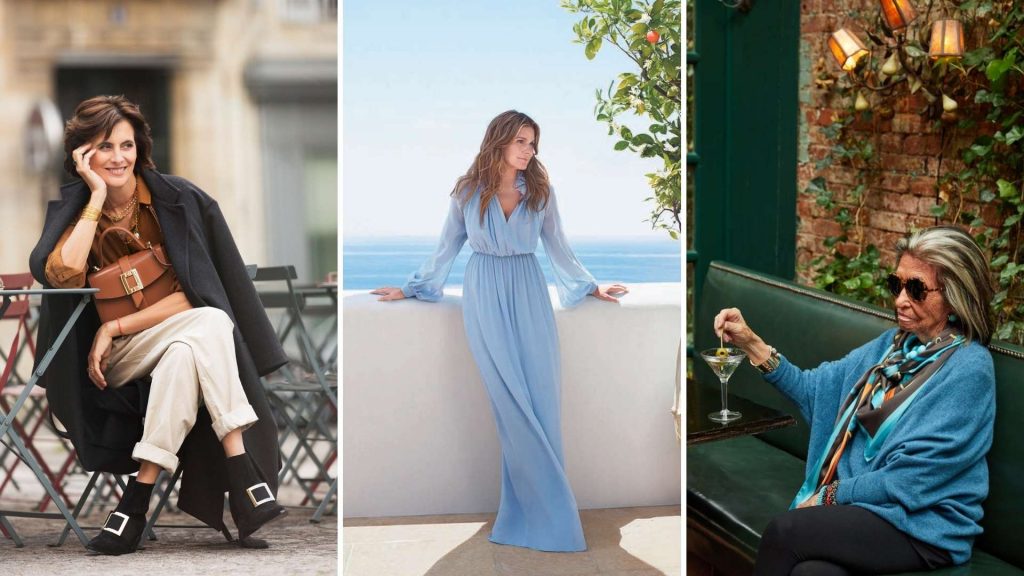 Embrace each milestone with style and grace 
As I said, aging is inevitable. Changing from the inside out as you reach different milestones: marriage, becoming a mother, grandmother, pensioner… Be confident in who you become as you move through different stages. And remember, you are only getting better!

I love my style choices and like to keep updating my wardrobe to complement my look, always remaining conscious not to dress for my much younger self. I believe that staying in shape is a critical part of being your very best self at any age and that will change what you can wear and how you wear it. But it's also very important to accept you might never look like you did when you were twenty, or before you had children…

Personally, I'm not a fan of exercise, but looking and feeling good in my own skin is important to me, as is my health. So, I still play tennis and go for walks with friends a few times a week. Plenty of sleep, spending time outside and with friends and family also change how you look. I ensure to get 8+ hours every night and see friends every day.

These are the things I believe you should never be too busy for! They help you glow from the inside out. Embrace your life as it moves forward, and never let go of great style!
Shop My Favorite Timeless Pieces