Robe vs Dressing Gown: It's a mindset.
Today's world is moving at a breakneck speed, and it's common for people to throw on their clothes as they are running out of their home, coffee in hand and kids in tow.

However, I believe that embracing simple pleasures in life is the secret to living a happier, and more fulfilled life every day – which is really one of the most important things. The beginning of the day is the perfect time to transform the simple act of getting dressed into a wonderful moment, by enjoying the few minutes you take to choose your outfit.

These moments are usually accompanied by wearing what the Europeans call a dressing gown. While, here at home we are more likely to call it a robe.

However, you might be wondering what the difference between a dressing gown and a robe is…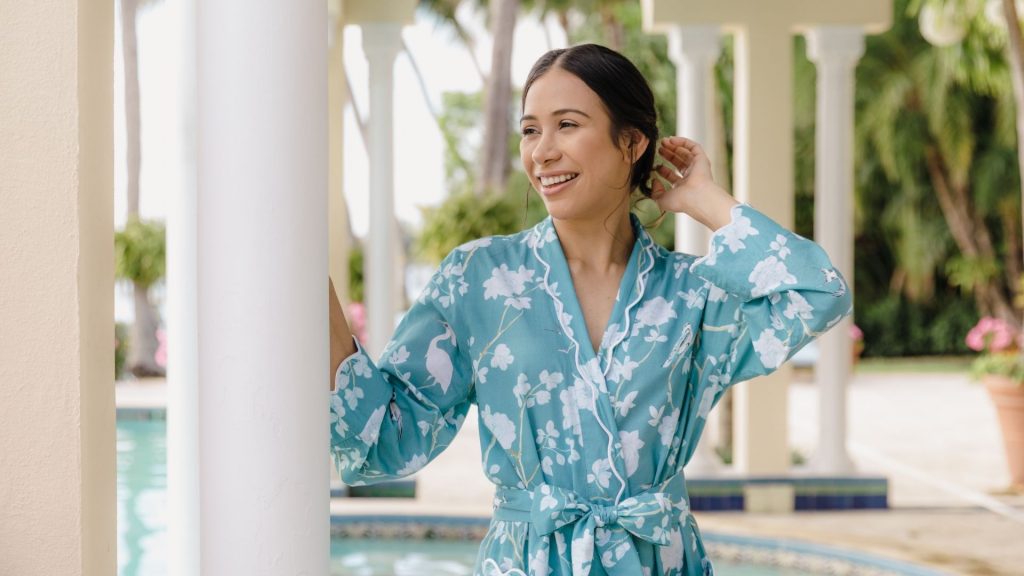 What's the difference between a robe and a dressing gown?
If you're anything like us, you likely have visions of yourself as Lady Mary Crawley, complete with the estate and the wardrobe to match. There was a time when elegant women wore robes before getting dressed in the morning, and these were called dressing gowns.

While our British counterparts still use the term dressing gown, here in the US the words robe and dressing gown have become synonymous. In fact, it's very rare to hear the word dressing gown being used anymore – you could say it's gone out of style.

This is a shame, as I rather like the idea of a dressing gown, it implies a special moment of enjoyment in our day that many of us no longer get to embrace.

So, the truth is, there is very little difference between a robe and a dressing gown, it's just that one name has become more commonplace. I'd like to encourage people to change their mindset around the purpose of a robe and changing the name to dressing gown might be a good place to start. It's all in the mindset, and it's something I'd like to change, so let's start with the name.

We like to think of them as dressing robes, a hybrid of the two together. Designed like a robe but made to allow you to take that extra minute in the morning to embrace the simple, yet the luxurious act of getting dressed.
What is a dressing robe made of?
Here, at Heidi Carey, we've designed robes that are light, yet warm to help you feel elegant and in control of the day. All our robes are designed to ignite the grand and regal woman lurking inside of you and we do that using prints and design features such as scalloping.

For example, our Chinoiserie Collection is inspired by the elegant and luxurious wallpaper that my mother and grandmother decorated their homes with. Those memories, woven with my own inspiration, helped create a timeless design that will transport the women who wear the robes.
This mixed with the scalloping edge creates a very old world feel.

I hope that our customers love wearing their robes and integrate them into a precious self-care experience that they partake in every morning.
The benefit of Heidi Carey robes...
Taking time to enjoy getting dressed in the morning and relishing in the process of choosing what you wear is a simple, yet underrated pleasure.

In a world that fetishizes busyness, we think taking a moment to be present and mindful is a radical act of self-care and love.

And it's our pleasure that Heidi Carey robes have become part of this process for many women.