Tablescaping Makes The Ordinary Extraordinary – Here's How I Do It!
What the heck is tablescaping?
Since when did setting the table become a landscaping event? What clever genius invented the word 'tablescaping'?

Let's be clear. I will never be a tablescaper… I'm a table-setter. That's what my mother always asked me to do "please set the table", not "please tablescape the table". Tablescaping is a bit of a fad word really. Someone decided to make setting the table into something that would trend across social media platforms. #Tablescaping and all that!

It's really nothing new though. People have been artfully arranging table settings for thousands of years. Tablescaping is simply dressing a table. You can keep it as straightforward or make it as complex as you like! Okay, now that we have that elephant in the dining room out of the way, let's talk about setting your table.
My thoughts on 'tablescaping'...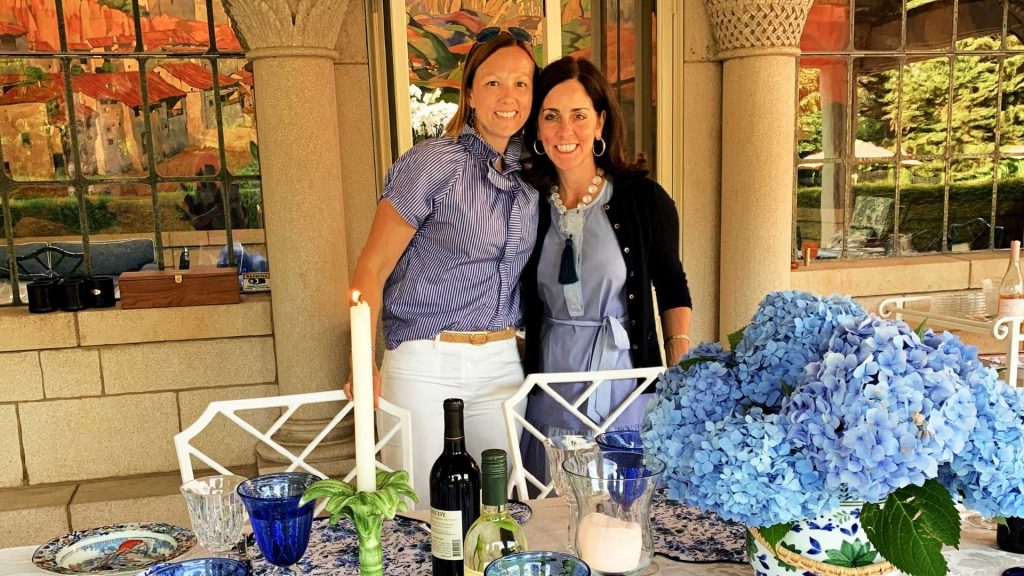 I believe everybody's kitchen or dining room table offers moments for potential joy, every day. The magic lies with setting the table for breakfast, lunch, and dinner. Just for you, your husband, wife, or immediate family… My husband and I take a lot of pleasure in sitting at a table with proper table linens that match the napkins and maybe even a tablecloth underneath.

It's rather easy to do, plus it makes cleaning up much easier. Why don't more people do this? I guess we're all too busy or we don't remember how those homely touches make us feel.

Of course, if you are hosting a dinner party, or inviting guests around for brunch, you're going to put the effort into making your table look fabulous.

But why do we choose to set the table for guests only, rather than for ourselves? I'm hoping you'll see how easy it can be to add simple elegant touches to make every day that little bit more special. For you.

A picture-perfect table Now, though I am a clothing and accessories designer, I also create beautiful home accents. From pillow shams to tablecloths, placemats, and napkins, my range is all about classic shapes, elegant colors, and patterns.

It's just another way of turning moments that might be overlooked into something special that gives us a tiny bit of joy. How nice it is to have a well-dressed bed, to settle onto and read your favorite book.

I'm all about using style sense to create special moments and that's what I'd love to share with you in this blog.
Are you ready to create a picture-perfect table?
Let's talk about how you can decorate your own table. All you need is some basic guidelines and confidence in your creative vision!

Ps. Some of the things listed below – like a centerpiece – are more for when you are entertaining guests than day-to-day.
1. Choose your color scheme
Don't be afraid to be bold
You can mix and match
Work with the season – choose deeper more muted colors in the fall, bold reds and greens with gold or silver trim for the holidays, and then brighter, lighter colors for spring and summer
2. Pick a centerpiece
Try not to pick something that will block your guests from seeing each other
Keep it simple for every day – a fruit bowl, or pretty seasonal flowers from your garden
Don't take up too much table space
If you have a round table, don't choose a long rectangular centerpiece, work with the shapes already created
3. Ensure you have all the essentials
Placemats
Napkins
Tablecloth
Drinkware
Cutlery
4. Remember the finer details when appropriate
Flowers
Lighting/candles
Holiday decorations
Christmas crackers
Place names
5. Don't overcrowd the table
You don't want it to feel claustrophobic
Things are more likely to get broken
It will lose the flow you're trying to create
People won't know which decor to focus on
6. Think about the food
What type of food are you serving?
Do you need room for serving bowls and plates?
If more than one course you may need different cutlery, side plates, etc
Do you have enough matching sets for all the courses
Remember, make every day special – do it for you, not just for guests. As long as you have considered the essentials when setting the table, you'll always make it feel like a moment to enjoy.
Shop My Handmade Table Linens